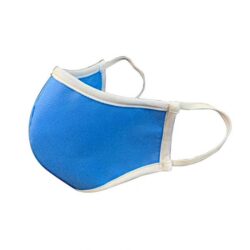 Anatomical Two-Layer Design
Ergonomic design provides excellent breathability and ensures freshness and comfort even when used for an extended period.
Masks contain two layers of 100% polypropylene, spunbond SS (2 ply), non-woven fabric providing a superior penetration barrier.
Technical Information:
• Bacterial filtration efficiency greater than 99% for media larger than 3 microns
• Fluid resistant, this product provides protection against the penetration of fluids (120 mmHg / 16.0kPa). Fluid resistance is measured in accordance with ASTM F1862*
• Non-FDA Approved
*This test evaluates the resistance of a medical face mask to penetration by a small volume (~2 mL) of synthetic blood at a high velocity (80 mmHg, 120 mmHg, or 160 mmHg). The mask either passes or fails based on visual evidence of synthetic blood.
All masks are individually wrapped

Call for pricing today!